Exploring a new career? Why not consider a real estate career. Here is everything you need to know about becoming a property agent or a real estate agent in Malaysia.
1. What is the difference between Real Estate Agent (REA) and Real Estate Negotiator (REN)?
You may have come across the terms REA or REN while exploring and understanding the real estate industry in Malaysia. An important step in understanding this career as a property agent is to find out what is the difference between a Real Estate Agent (REA) and a Real Estate Negotiator (REN) in Malaysia.
Who are Real Estate Negotiators (REN) in Malaysia?
RENs are individuals working under a licensed real estate agent (REA) and registered with the Board as Real Estate Negotiators (REN). Examples of work that could be done by RENs are, market and sell properties for property owners or to rent out units for landlords. A REN can also assist to source for properties to buy for buyers and for properties to rent for tenants but must be under the supervision of a registered estate agent (REA).
How do I become a REN? Do I need to attend any real estate agent classes?
In order to be registered as a REN in Malaysia, it is mandatory to attend a 2-day real estate course known as the Negotiator Certification Course (NCC) in order to obtain a REN tag, which is a practicing tag which need to be worn by the REN at all times while conducting their business. Anyone practicing estate agency without a tag may be jailed or fined up to RM300,000. The NCC course is sometimes known as the REN tag course on the field as this is the course that a REN needs to take in order to get a REN tag.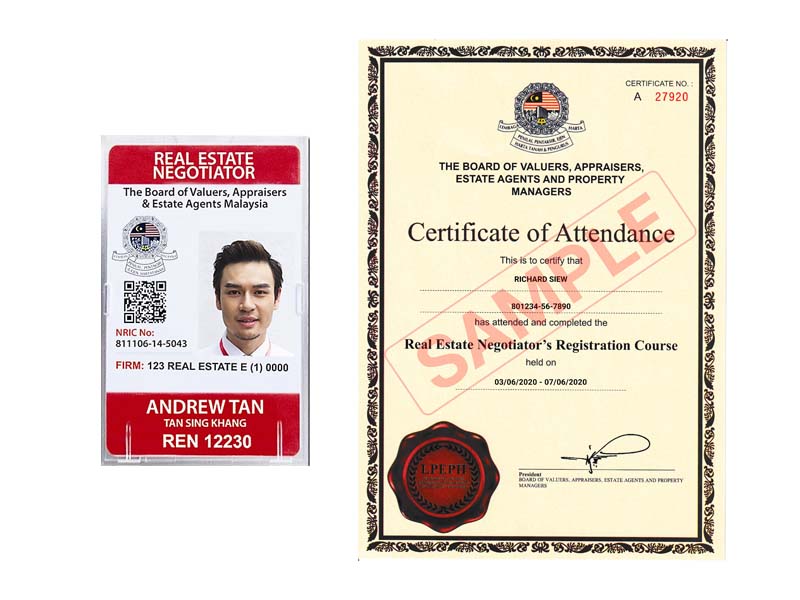 The 2-day NCC course is offered by Good Institute who is an authorised provider of the course by the Malaysian government under the Board of Valuers, Appraisers, Estate Agents and Property Managers Malaysia. Upon completion of the 2-day course, attendees will receive a Certificate of Attendance.
This certificate of attendance will then be used to apply for the REN tag by a real estate agency. Individuals do not need to be attached to an agency before attending the course and the attendee may decide on a suitable estate agency to join later.
Who are Real Estate Agents (REA) in Malaysia?
REAs are individuals who are registered with the Board (BOVAEP / LPPEH) as real estate agents. They have the Diploma in Estate Agency qualification and have met the minimum experience, expertise and standards set by the Board.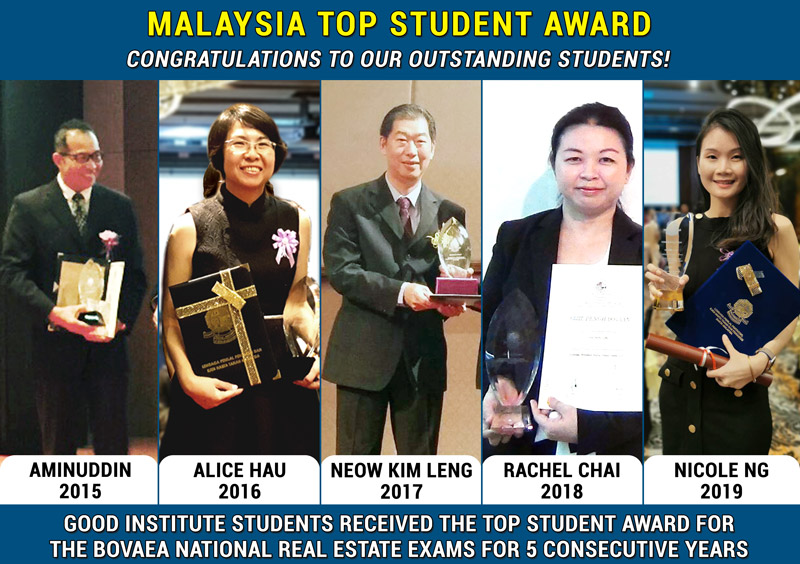 What can real estate agents do?
With the real estate license, these registered estate agents are able to :
practice estate agency and earn higher commissions than real estate negotiators
own and operate a real estate agency
work for an estate agency and get paid a monthly salary
recruit real estate negotiators (REN) to work under him or her and enjoy overriding commission.
How do I become a REA?
To be qualified as a REA, you may follow the following steps:
Complete the Diploma in Estate Agency.

Good Institute provides a preparation course which can be taken on a part time or on flexible online basis. Once completed, the Diploma shall be awarded directly by the Malaysian governing body i.e. BOVAEP / LPPEH so you can rest assured that it is 100% recognised by the Malaysian government.
Good Institute has an effective easy-to-study format which has produced the top student in Malaysia for the past 5 consecutive years. The exams consist of 2 parts i.e. Part I and Part II which consist of 6 subjects per part. Generally, it takes an individual 1.5 years to 2 years to complete the course on a part time basis.

Work experience

Upon completion and passing the exams for the Diploma in Estate Agency, the next phase requires you to complete a 2-year work experience as a Probationary Estate Agent under a Registered Estate Agency.

Oral interview

Once you have completed both the diploma and the practical work experience, you will be invited to attend an oral interview as part of the Test of Professional Competence. During this oral interview, you will need to demonstrate the knowledge and skills you have learnt during your studies and work experience before officially being awarded the title of Registered Estate Agent (REA).
Before embarking on your real estate career, take time to learn more about the industry. The benefits of being the real estate industry are extremely attractive and able to attract many to embark on a career in real estate. However, a professional that is able to stand out from the rest will ultimately become the top real estate agent.
Do you want to learn more about:
How to become the top real estate agent in Malaysia?
How do real estate agents make money and get paid in Malaysia?
How to stand out from the other property agents in Malaysia?
How to kick start your real estate business in Malaysia?
What are the real estate agent classes available in Malaysia?
Sign up and attend the Good Institute FREE online preview to find the answers to these questions.